A team of researchers at the Hebrew University of Jerusalem has created a new sensory substitution device (SSD) called EyeMusic. The aim of the device is to help the visually impaired perceive the visual scene surrounding them by converting images into music.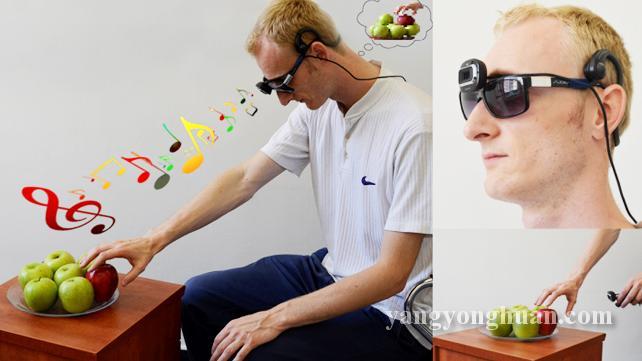 In other words the concept enables the blind people to "see" using music.The EyeMusic concept is programmed using a number of different algorithms of musical instruments for each of the five colors – white (vocals), blue (trumpet), red (reggae organ), green (synthesized reed), yellow (violin). Black is represented by silence. The device is equipped with a pair of glasses with an attached video camera, which are wired to a pair of headphones. The device provides the user with music as the camera passes over colors.
"We demonstrated in this study that the EyeMusic, which employs pleasant musical scales to convey visual information, can be used after a short training period (in some cases, less than half an hour) to guide movements, similar to movements guided visually," explain lead investigators Drs. Shelly Levy-Tzedek, an ELSC researcher at the Faculty of Medicine, Hebrew University, Jerusalem, and Prof. Amir Amedi. "The level of accuracy reached in our study indicates that performing daily tasks with an SSD is feasible, and indicates a potential for rehabilitative use."
In the future the EyeMusic SSD concept would assist the visually impaired not only in sensing the environment but also in performing daily tasks.
Related Articles
Share
About Author
(1) Reader Comment